The Shyft team has been hard at work on our new Shyft 3.0 2021 product release. The application is now live for iOS and Android devices. Head over to the App & Play Stores to upgrade to the newest version.
We are delighted to share with you a list of 50 feature enhancements that have been made to the benefit of users in the application. General themes of the improvements include layered and filtered calendar views, robust shift card data sets, advanced shift marketplace functions, and enhanced communication tools.
For our new and existing users, a detailed list of experience improvements are listed below. We hope you enjoy the new version!
Shift Calendars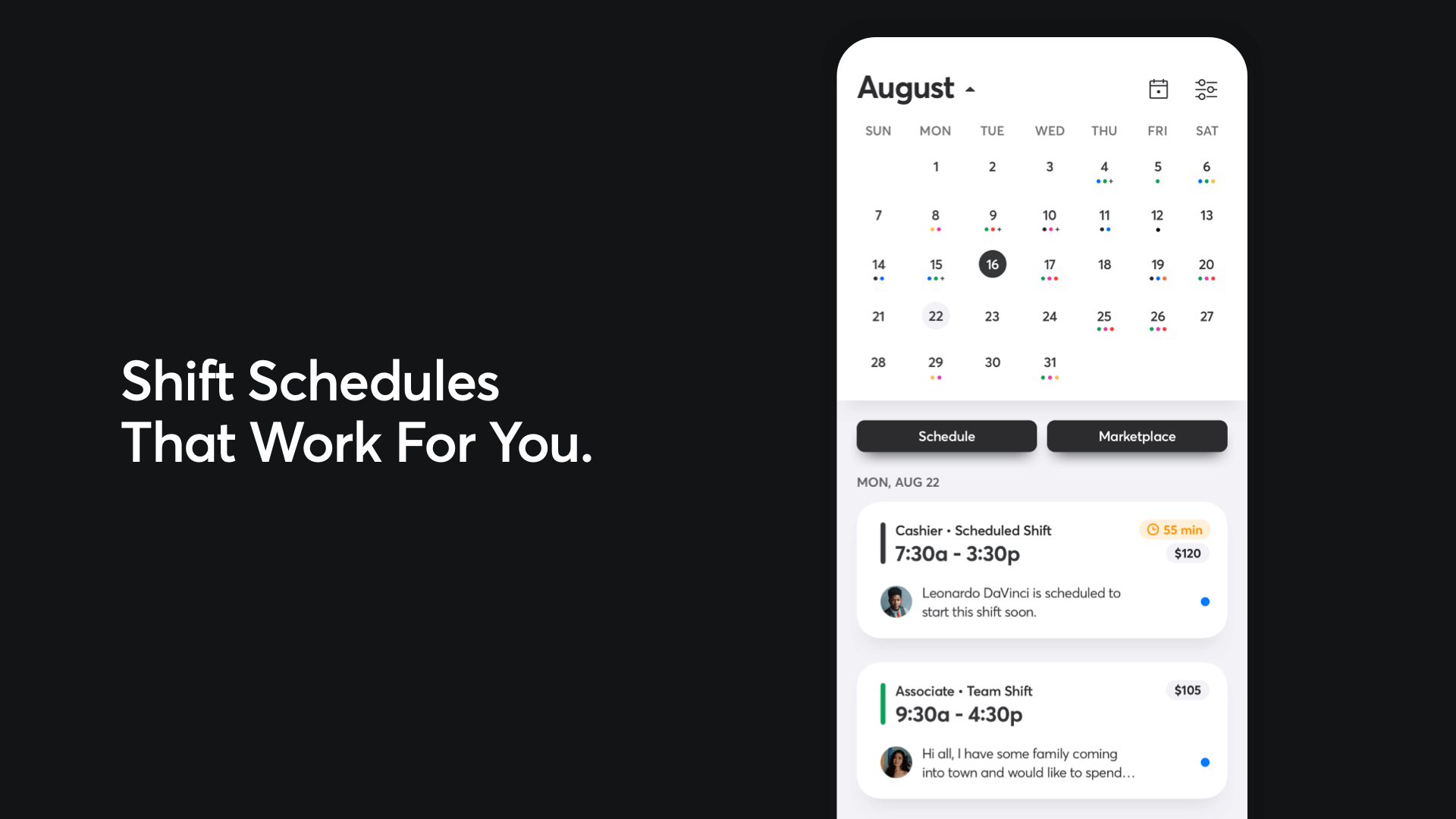 Calendar Tab – Merged Calendar and Shift Feed for singular calendar experience.
Macro Views – Toggle on/off Schedule or Marketplace macros to compare shifts.
Color Coded Shift Types – 8 Shift Card types including Scheduled, Open, Team, etc.
Calendar Month Picker – Month view with shift card type dots for high level views.
Calendar Week Picker – Week view with shift card type dots for high level views.
Today Icon – Tap on Today icon on Calendar tab to go to today's date.
Viewing Expired Offers – Scroll back through the calendar to view expired offers.
Scheduled Shifts & Rosters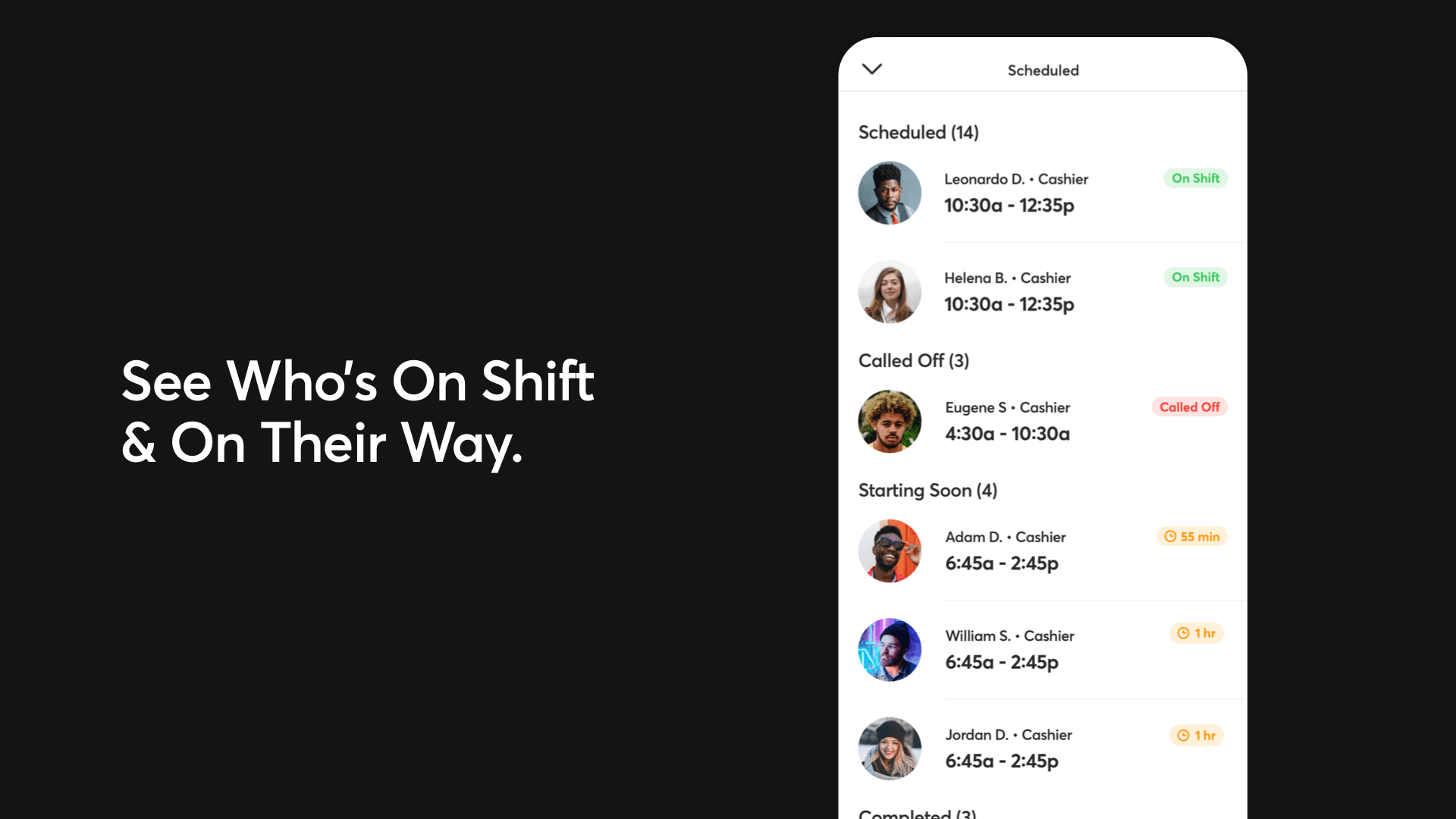 Scheduled Shift Statuses – View scheduled shift details and active shift statuses.
Shift Countdown – Countdown status tags display how soon your next shift starts.
Shift Segments – Displayed in shift details view, no more extra clicks to access.
Get Directions – Tap the map icon on a shift for maps, directions, or rideshare.
Roster Cards – Display counts of total users scheduled, on shift, and starting soon.
Roster Cards Statuses – View called off and tardy statuses directly on daily rosters.
Add Shifts to Roster – Tap the Add button on a Roster card to post shifts or VTOs.
Team Shift Swaps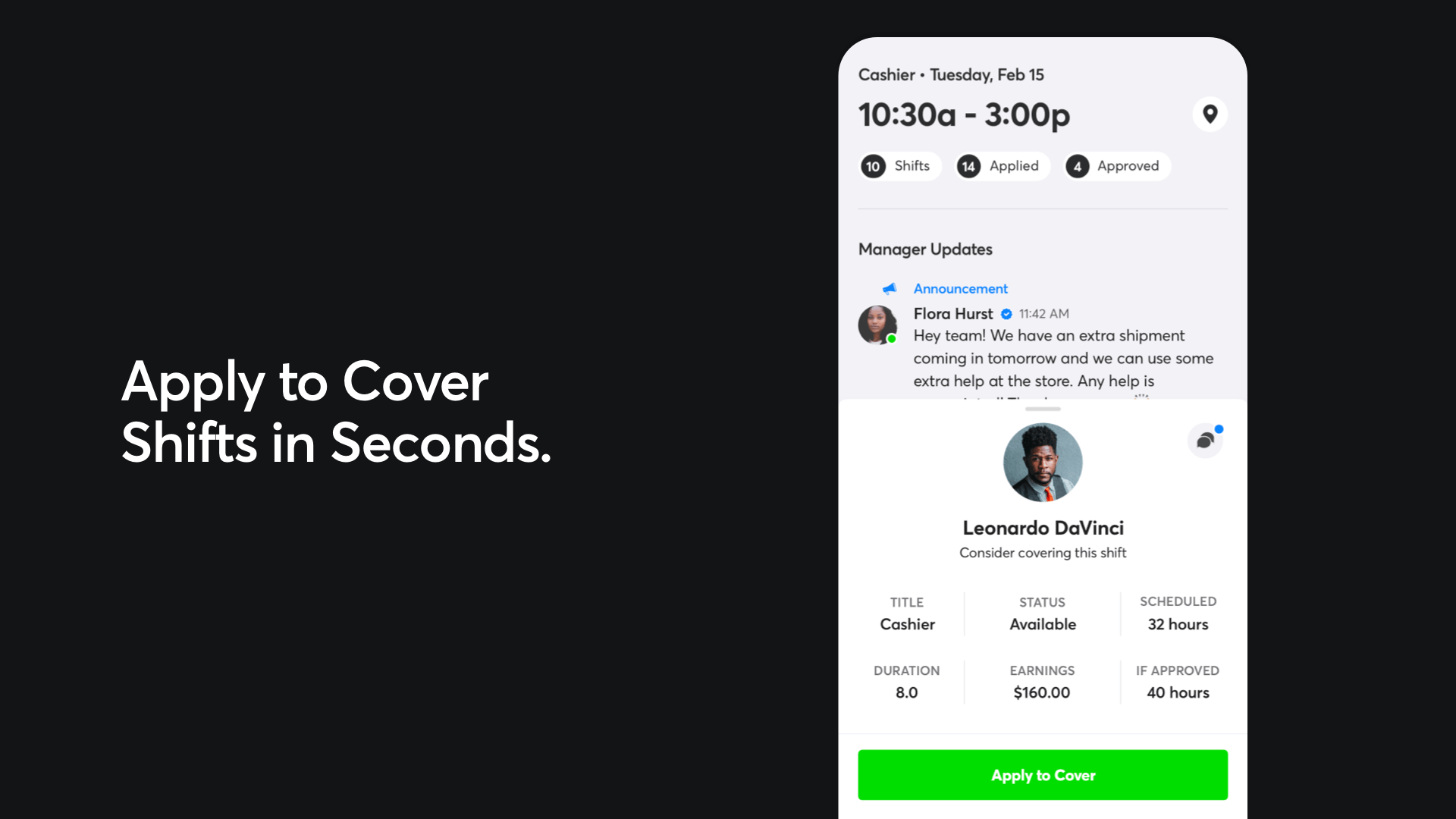 Swap Shift – Tap on a Scheduled shift to swap it directly from your calendar.
Shift Card Markers – Show if comments are waiting in the shift post with a blue dot.
Multiple Applicants – Multiple applicants can now apply to cover a single shift.
Applicant Statuses – Review how many applicants are pending or approved.
Scheduled & Approved – Applicants see weekly hours scheduled and if approved.
Approving Admin – Manager who approves the shift is displayed with timestamp.
Region & Location – Groups are organized into tabbed menus for broadcasting.
Cancel Shift Post – Cancel your shift cover request if you decide to work instead.
Open Shifts & VTO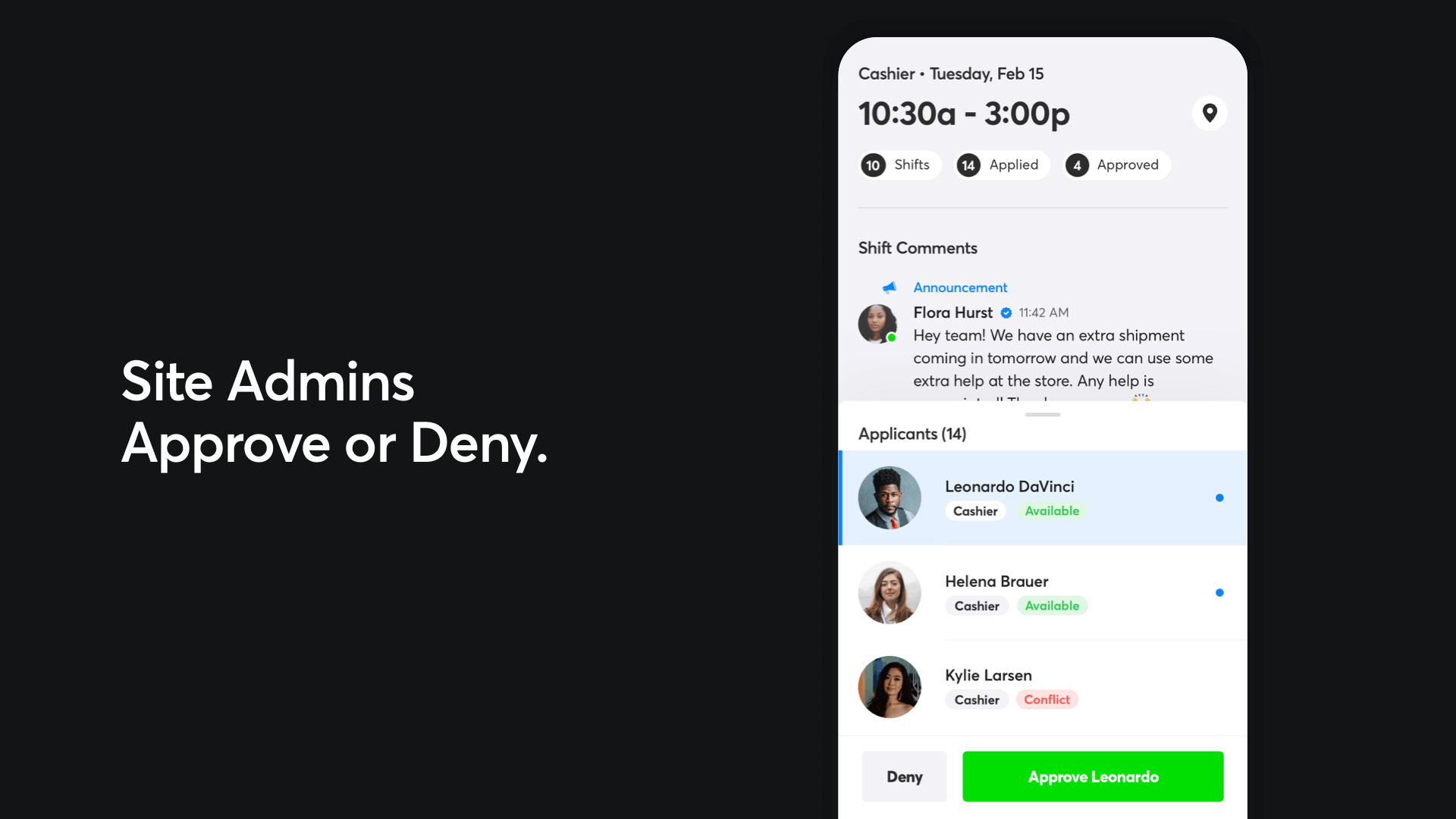 Job Titles – Shift Job Titles added to all shift broadcasting functions.
Preview & Post – Confirmation steps added to preview shifts before broadcasting.
Time Clock Attributes – Broadcasted shifts can be linked to specific pay codes.
Financial Tags – Fin tags display wages, premiums, tips, or enhancers on shifts.
Sort Applicants – Admins can sort multiple applicants list by name, job title, etc.
Shift Applications – Application cards added to shifts display additional details.
Application Comments – Private comments separated from public shift comments.
Community & Communications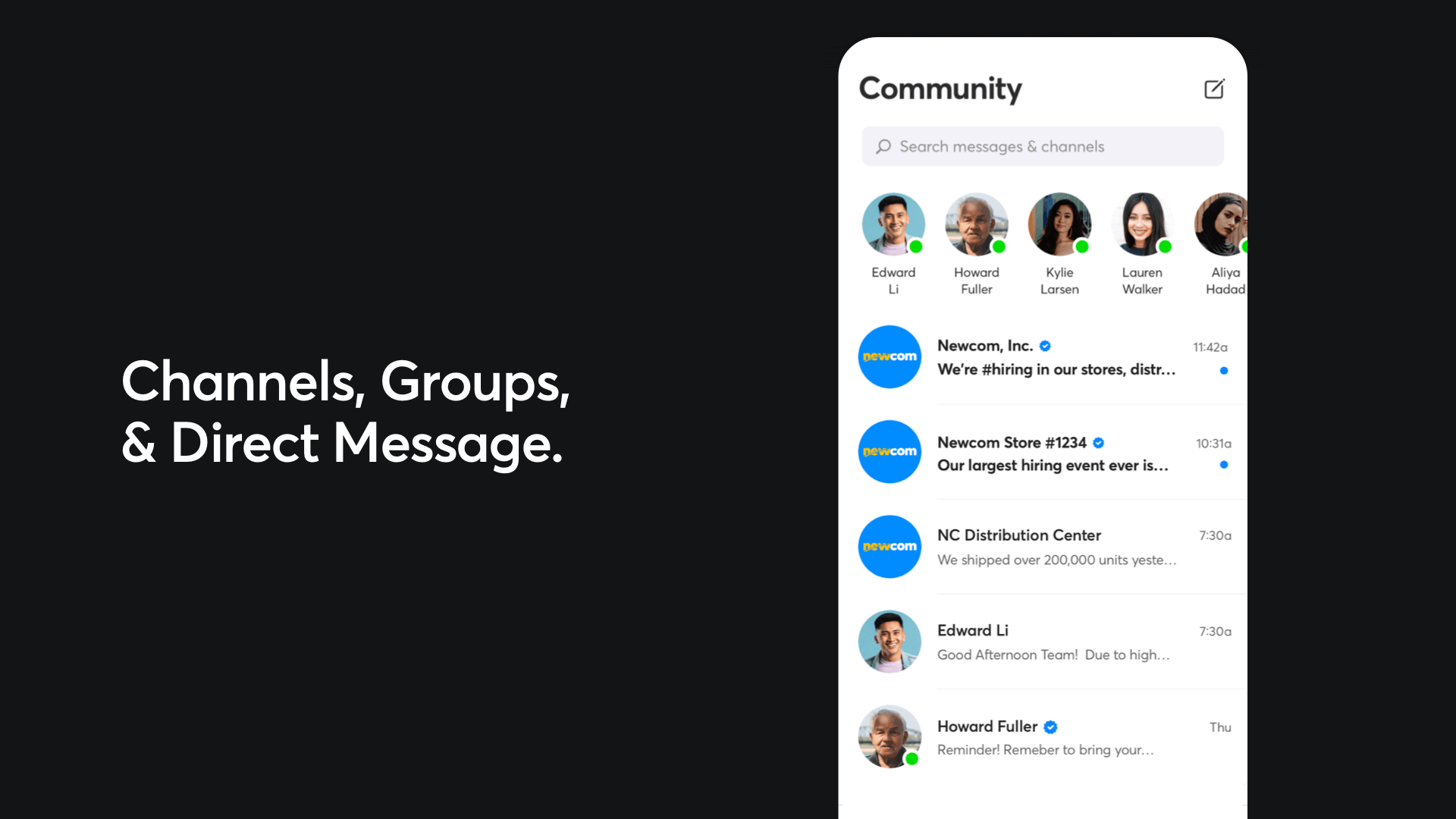 Channels List – Channels and direct messaging merged into one Community tab.
Channel Avatars – Company logos displayed in Location and Channel avatars.
Multimedia – Post text, images, video links, web links, survey links, PDFs and more.
Announcements – Highlighted in blue with announcement tag and read receipts.
Pinned Posts – Highlighted in yellow with pinned tag.
Channel Settings – View and add team members directly from Channel settings.
Channel Description – Add a Channel description to organize conversation topics.
Verification Badges – Admins have a verification check mark throughout the app.
Call Off, Time Off Request, & Photo Schedules
Call Off – Call Off from a Scheduled Shift to indicate you cannot make the shift.
Call Off Reason – Add a specific reason from a list of menu options.
Time Off Request – View accrual balances before making a request.
Flexible Requests – Make single day or multi-day requests for time off.
Photo Schedules – Now appear as shift cards in the primary Calendar tab.
Photo Schedule – Poster can rotate the schedule image before broadcasting.
Notifications & Support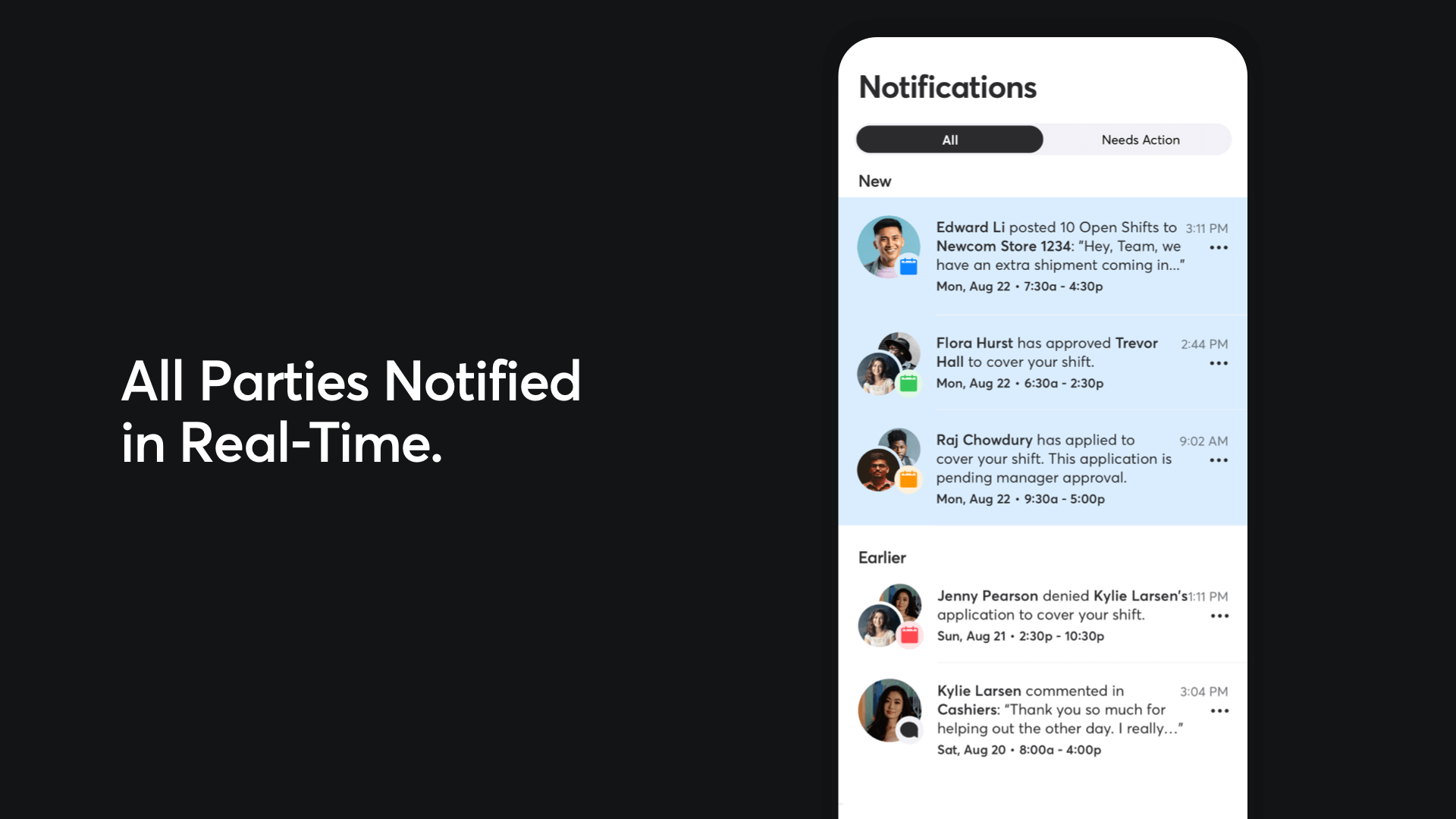 Shift Notifications – Include date, start time, end time, and group of shift.
Push Notifications – Leverage titles and subtitles for additional clarity.
In App Notifications – Sorted into New and Earlier categories.
Needs Action Tab – Notifications sorted into All and Needs Action tab for Admins.
Remove Notifications – Tap on notification settings menu to remove notifications.
Invite Team – Enhanced invite options for adding team members via SMS.
Support Center – Revised knowledge base with articles and tutorials.