Lately, much of the discussion around customer experience has focused on concepts like omnichannel shopping and creating immersive store experiences. We've written about the innovations the retail industry is buzzing about that we are likely to hear more about at NRF 2019.
While those advancements are a progressive step for the retail industry, it is important not to lose sight of a retailer's best asset for driving conversions: its workforce. Associates on the sales floor can solve customer problems in real time, upsell products and foster an emotional connection with the brand. Retailers should invest in their employees to provide stand-out customer experience.
One of the best ways to do that is through mobile workforce management solutions like – you guessed it – Shyft! Our data has shown that a mobile WFM tool like Shyft reduces absenteeism, saves time for managers and associates, and improves retention. Present, engaged and happy employees mean better sales interactions in the store.
Here are the five ways mobile workforce management drives sales:
1. Reduce absenteeism to keep the sales floor staffed
Unplanned absenteeism costs companies approximately $3,600 per hourly worker each year, according to a report by Circadian. Managing absenteeism is an operating cost and administrative headache, and it also hurts a company's ability to convert sales.
With a mobile WFM tool in hand, an employee is more likely to find last-minute coverage instead of calling out. In a study Shyft conducted with a national retailer, 58% of associates surveyed said they need at least one shift covered each month. 48% of respondents said they know they'll need a shift covered only two days in advance or less.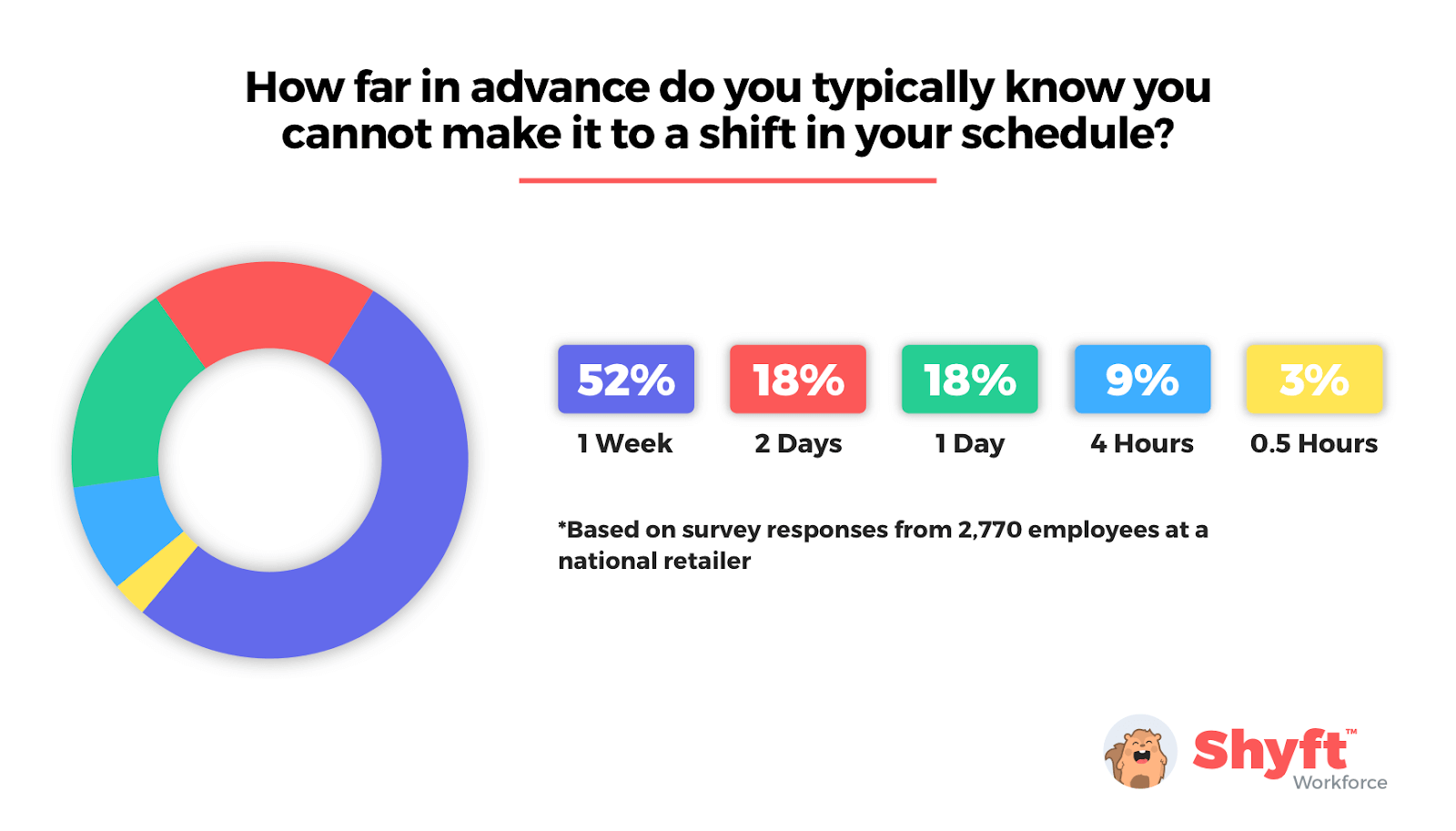 Beyond maintaining the bottom line, it stands to reason that the more people a retailer has on the sales floor, the more sales the store will be able to close. When a shift is properly staffed, associates also feel less stressed and will be more likely to go above and beyond to solve customers' problems.
2. Save time for managers to allow them to focus on sales priorities
If a team member calls in sick or just doesn't show up, managers are responsible for finding a replacement. That may mean manually calling team members or, based on the survey responses we received, posting to a Facebook group or sending a group text. Coordinating in these ways can work, but also takes significant time.
In our survey, 67% of managers reported that Shyft saved them 4 or more hours a week. Depending on the value of a managers' time, four hours saved each week could mean upwards of $100 in savings per week per manager.
Instead, managers could put that time toward coordinating upcoming promotions or bigger picture initiatives. They could even be on the floor selling products and resolving customer service issues. That is a far better use of a manager's time than scrolling through employee phone lists and Facebook groups looking for someone to cover a shift.
3. Flex staffing to meet increased store traffic
In an interview with Business News Daily, Headcount CEO Mark Ryski recommends that retailers match associate staffing to store traffic to drive sales. Managers do their best to anticipate traffic spikes, such as during seasonal pushes like Black Friday, but it's useful to have the flexibility to meet increased demand in real time.
If a manager sees an increase in traffic, they could use a mobile workforce management tool to notify associates of extra available shifts. The manager is then better able to match associate resources to customer needs, increasing the likelihood of those extra visits leading to more sales.
4. Enable team members to be their most effective
When a retailer has talented people working for them, it's in their best interest to remove obstacles to help teams get even more done. Used strategically, technology can help facilitate everything from better customer interactions to efficient scheduling.
A mobile workforce management solution empowers managers and team members to manage their schedules. By allowing them to quickly and easily swap shifts, pick up extra shifts and communicate with coworkers, they're empowered to make the most of their time.
5. Attract and retain talent that engages customers
Talented associates are key to sales floor conversions. Retailers have to compete to attract capable employees, and it's about more than pay and benefits these days. As Chain Store Age reports, prospective employees are also weighing workplace experience and a company's level of innovation.
Generations like Millennials and Gen Z are especially interested in maintaining their mobile-first lifestyle at work. Mobile workforce management solutions can give retailers a competitive advantage when recruiting talent.
Offering a mobile workforce management tool tells an associate their employer is investing in them and their work experience, which supports recruitment and retention. In our survey, 71% of associates indicated that they felt Shyft helped decrease turnover at their location.
By empowering team members to manage their schedule, a mobile workforce management solution supports staffing, reduces inefficiencies for teams and strengthens the relationship between retailers and their employees. When associates on the sales floor are relaxed, motivated and empowered, they're more likely to go above and beyond to assist customers. Mobile WFM tools enable brands to create a better employee experience, which results in better customer experience and more sales.
If you're interested in learning more about how a mobile WFM tool can be leveraged to engage employees, please reach out to us by filling out the form below. We'd love to discuss your company's unique situation and ways that Shyft can be a resource for your team.
We'll also be at NRF 2019: Retail's Big Show. If you'll be there, schedule a time to meet with the Shyft team, see demos of our product and discuss how a mobile workforce management solution can drive revenue for your company.