The retail industry represents the largest private sector employer in the U.S., and NRF: Retail's Big Show is the world's largest retail conference. Chris Baldwin, Chairman, President and CEO of BJ's Wholesale Club put it best when he opened the event by saying, "One out of three people's first jobs are in retail. We teach America how to go to work."
As a company that focuses on helping retailers optimize labor and empower associates, we make it a priority to be at NRF. This year, we honed in on three major themes: customer experience, employee experience, and technology. We believe these three are intrinsically connected, and based on what we heard this year, the retail industry does too.
Below, we've broken down our key learnings from NRF 2019. The long and short is: to delight customers, retailers need to invest in supporting their employees with the right technology.
Brick and Mortar Remains a Priority Channel for Customers
It's undeniable that customers are using digital channels to shop and make purchases at high rates, but the in-store experience is still valued across all age groups. In the session "Beyond millennials: How to attract and retain today's consumer," Toshiba Business shared the results from their survey of 4,100 people ranging from millennials to baby boomers. They found the majority of millennials still prefer to shop in a store – as long as they can interact with the company through digital channels as well.
For instance, 57% of respondents ages 16-20 said they prioritize shopping in the store; 49% of that same group want to also connect on social media, and 43% want to interact on YouTube as well.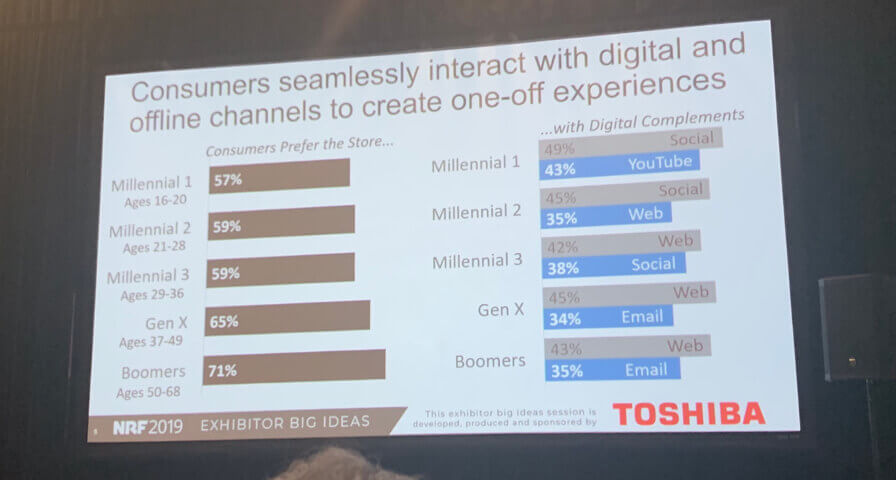 Despite the rise of online and mobile, customers still prioritize brick-and-mortar shopping. Considering that 95% of shoppers surveyed by Oracle NetSuite said they don't want to talk to a robot while shopping, associates play an integral role for engaging customers in the store. This leads to the next learning:
Customer Experience and Employee Experience Go Hand-in Hand
Since shoppers still prefer to visit the store, associates continue to be essential to a retailer's sales strategy. In the session "The future of work: How innovative workforce technology enhances the customer experience," Christian Spor, Director of Store Operations for GameStop and Steve Wilson, Executive Director of Retail Practice at MarketSource, Inc. talked about the crucial connection between employee experience and customer experience.
Christian Spor summarized it well when he said, "Associates are the power of our company. They face the customer, they sell the product, they add on or they don't. If they're not happy, they're probably not doing it the best they could."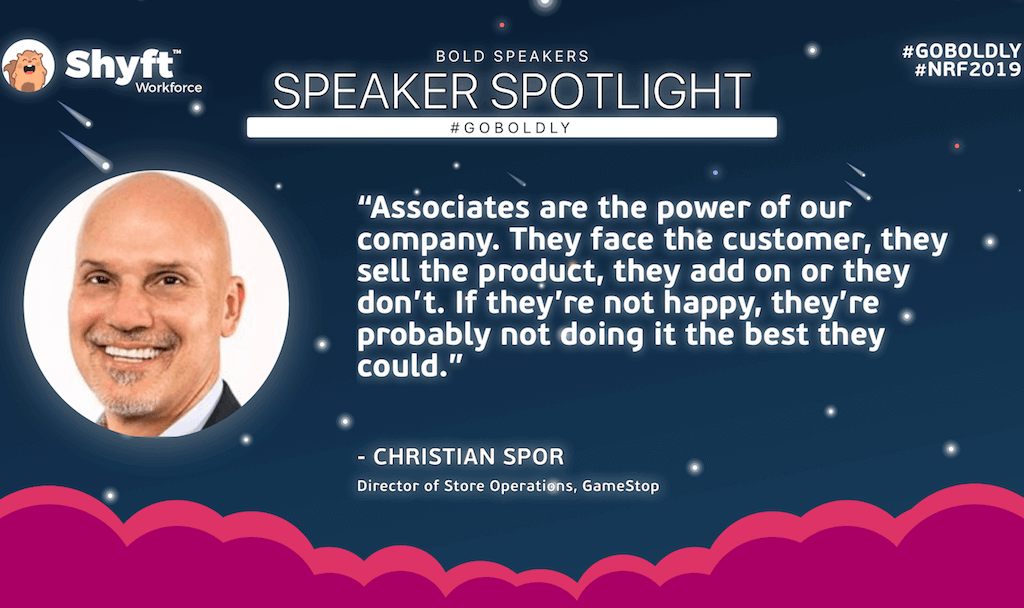 To provide a high-quality customer experience, retailers will want to ensure they're providing an excellent employee experience first.
Employees Want Better Technology
As the Toshiba Business survey showed, people of all ages use digital tools to connect. Today's mobile-optimized workers want to leverage modern technology in their professional lives as well. Christian Spor and Steve Wilson touched on this in the "Future of Work" session.
Wilson advocated for retailers to take a second look at the technology used to communicate with employees. As millennials continue to form a large percentage of the workforce, and Generation Z starts to enter the workforce, he said MarketSource has had to rethink how it interacts with employees.
"They think a lot differently about how they engage with their employers," he shared. "They don't really use email, they prefer to engage through social methods and a lot of video rich content."
Acknowledging that it takes major change and commitment from the highest levels of leadership, Wilson encouraged employers to upgrade their communication methods. "Whether you're a retailer, a manufacturer or a service provider, if you don't make those changes you will become a dinosaur. This is where things are going, this is where the employee is going, and we know because we asked them."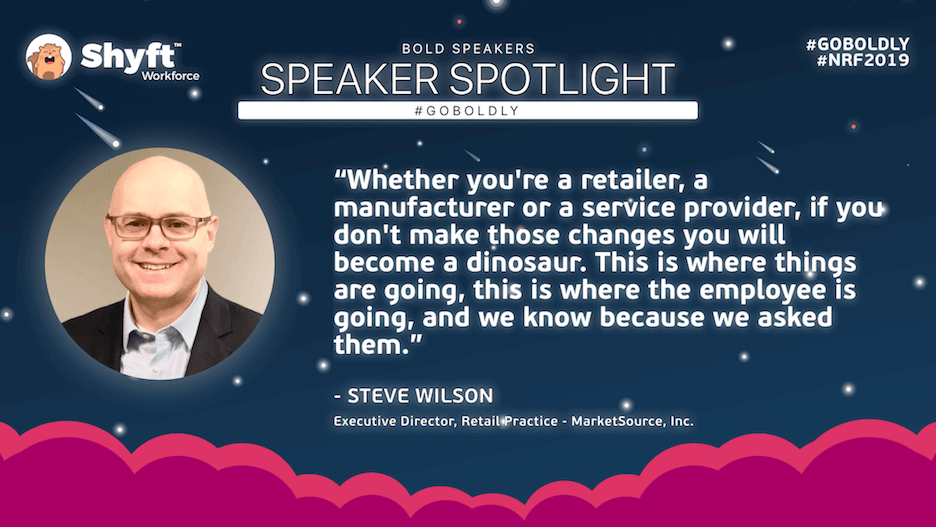 Just as employers are upgrading the tools they use to connect with customers, retailers will want to update the technology they use to engage employees.
To Differentiate, Commit to Caring for Associates
In a competitive employer landscape, retailers are hard-pressed to appeal to talent. The session "The war for talent: Retailers' strategies for meeting today's hiring needs" featured representatives from Greyston Bakery, Kohl's and The Home Depot. They discussed ways to differentiate "when talent is in control."
Among strategies such as engaging parents of young prospects and incorporating team-building into the interviewing process, Greyston Bakery's Vice President of Human Capital, Alan Gaynor, advocated for authenticity and compassion.
"When someone walks into the building, are you authentic?" he pressed. "Do you care about your associates? Do you give them a flexible schedule?"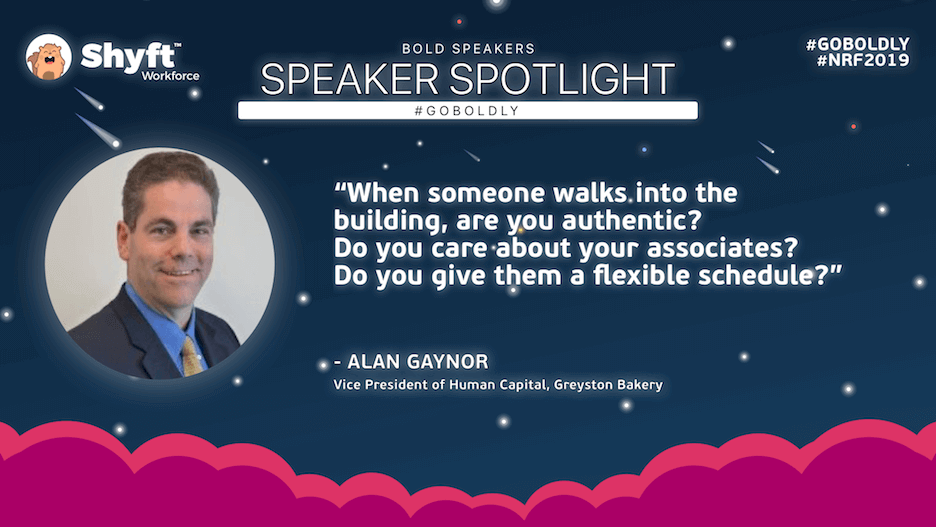 Employees are people, and at the end of the day, they respond well when they feel supported. Retailers stand to benefit from policies and programs that help empower their professional and personal lives.
Mobile WFM Presents a Significant Opportunity for Retail
The takeaways from NRF 2019 around customer experience, employee experience and technology confirm our belief that mobile WFM is the future of retail. By empowering associates with a mobile WFM tool like Shyft, retailers can engage and optimize their workforce to build a consistent customer experience. In our Big Ideas Session with Gap Inc., Andrea Madigan, Senior Manager of Field Profitability at Banana Republic shared how Shyft is supporting better team morale, engagement and staffing across Gap Inc.'s portfolio of brands.
By using a mobile WFM tool, retailers can:
Communicate with associates in the way they prefer
Empower scheduling flexibility to support associates' personal and professional lives
Ensure stores are appropriately staffed to meet customer demand
Save managers time so they can focus on leading sales efforts
According to our mobile WFM study with a global retailer, 72% of respondents said Shyft helps reduce unstaffed shifts by 40% or more. 92% of associates said Shyft helps make managing their work schedule easier, and 71% said they felt it helped decrease turnover at their store. Among managers who responded, 67% reported saving 4 or more hours each week while using Shyft.
We're glad to have shared our expertise with the broader retail community at NRF 2019. It's a pleasure to discuss the benefits of mobile WFM technology with retail leaders.